To Marina del Gargano users
We feel an understandable apprehension of shipowners, who are currently barred from accessing their boats.
In addition to reassuring you about the surveillance and the safety of the boats moored at the Marina del Gargano Manfredonia, as we already done at any time of the year,
we want to pamper you with Temporary Video Call Service. With the collaboration of our staff and compatibly with the ordinary activities, you can "checks" the state of the boat.
Service is available every day from 10.00 a.m. to 06.00 p.m. Video call on Whatsapp +39 388 9296748
We know that you feel safe inside the Marina del Gargano Manfredonia, but we also know that your desire to see again your boats and the colors of your sea is now uncontainable.
We will be back soon to enjoy them together, we miss you!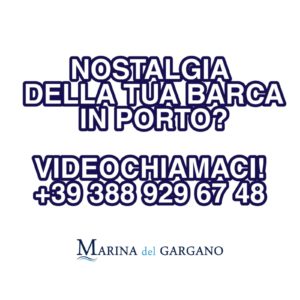 This post is also available in: Italiano (Italian)